Introducing the new Domestic and Family Violence Prevention Council
Queensland's Domestic and Family Violence Prevention Council is continuing to successfully engage stakeholders through virtual means as we all navigate the 'new normal' during the COVID-19 pandemic.
After its first face-to-face meeting in Brisbane on 28 February, the Prevention Council conducted its monthly April and May meetings virtually and is powering ahead with a program of virtual meetings with Townsville stakeholders during May and June 2020.
The Prevention Council opened their first meeting with a minute's silence acknowledging all women, children and men who have lost their lives to domestic and family violence.
The formation of the Prevention Council follows a successful four-year tenure of the Domestic and Family Violence Implementation Council who monitored and advocated for the implementation of all 140 recommendations from the Not Now, Not Ever: Putting an End to Domestic and Family Violence in Queensland report. The Implementation Council's term ended in November 2019.
Drawing its members from key sectors in the community and government, and co-Chaired by Ms Kay McGrath OAM and Mr Bob Atkinson AO APM, the Prevention Council is tasked with building on the momentum of the domestic and family violence reform work by encouraging everyone to play their part in addressing domestic and family violence.
Recognising the difficult task ahead, Council Members have developed a workplan that aims to bring about real and lasting change at a grassroots level by championing community understanding, action and ownership.
The Prevention Council's focus is on partnership building and encouraging individuals, organisations and sectors to look at their own areas of influence – their workplaces, their neighbourhoods, their local clubs and sporting teams – and challenging them to act.
"Whilst we know that behaviour change can take a whole generation, the work of the Prevention Council will contribute to a positive shift in attitudes and behaviours in workplaces, on sporting fields, in school yards, and most importantly within homes." Kay McGrath said.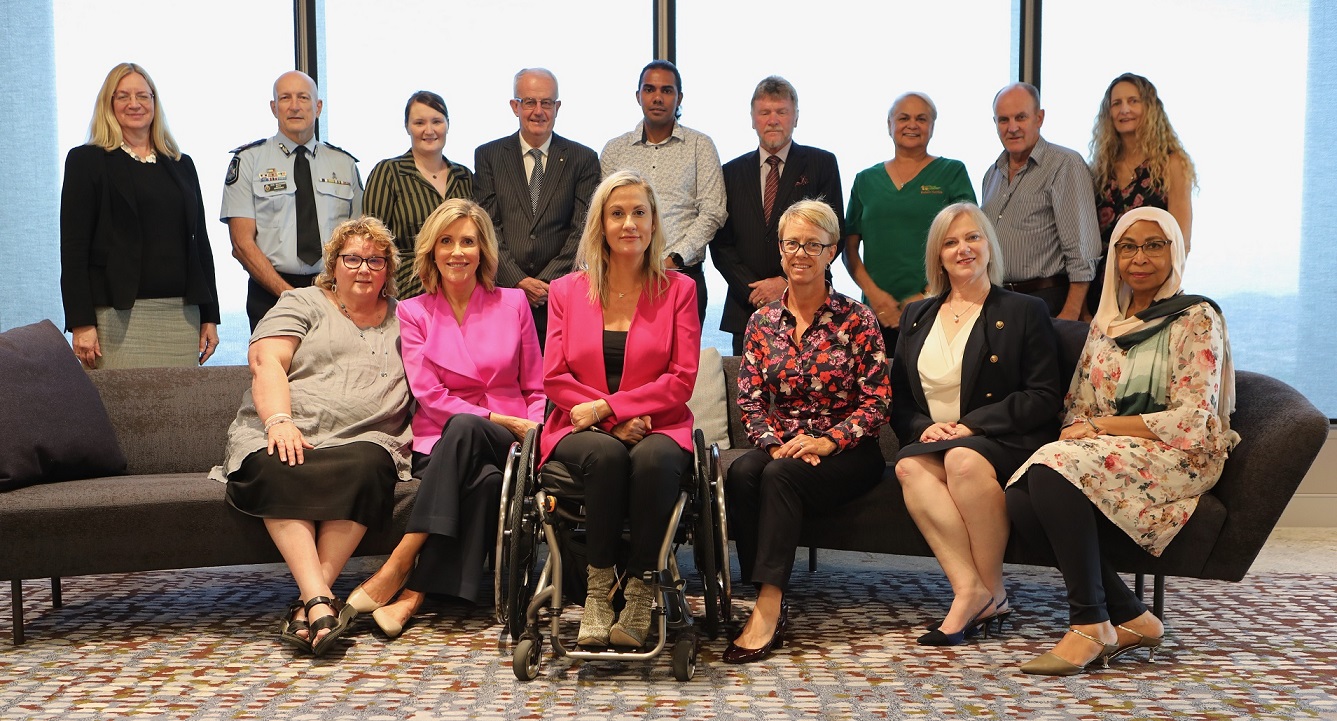 Domestic and Family Violence Prevention Council members and ex-officio members
Top (left to right): Leigh Roach (formerly Department of Child Safety, Youth and Women), Deputy Commissioner Steve Gollschewski APM (Queensland Police Service), Rebecca McGarrity PSM, (Department of the Premier and Cabinet), Bob Atkinson AO APM (Co-Chair), Saliman Bin Juda, Magistrate Trevor Black, Lyn Anderson, Dr Wendell Rosevear OAM, Penny Carr.
Bottom (left to right): Karyn Walsh AM, Kay McGrath OAM (Co-Chair), Karni Liddell, Rachel Durdin, Dianne Fletcher, Faiza El-Higzi OAM.