QCAT and LawRight: helping vulnerable domestic violence victims
A new legal service is available at the Queensland Civil and Administrative Tribunal (QCAT) for people impacted by domestic and family violence.
The service is operated by LawRight, an independent community-based organisation that coordinates pro bono legal services for Queenslanders who cannot afford private representation.
Acting Executive Director Natalie Parker says QCAT has identified the need for greater support for some of the community's most vulnerable people.
"QCAT provides a quick inexpensive avenue to resolve disputes," Ms Parker said.
"However, when domestic and family violence is involved, it can be extremely difficult and traumatic for people to retell their story.
"QCAT's wide range of jurisdiction means there are some areas of law that can be extremely complex. We're really grateful LawRight can help people when they need it most," she said.
The Department of Justice and Attorney-General has funded LawRight to run the domestic and family violence duty lawyer service at QCAT for three years.
Domestic and family violence duty lawyer Liz Gallagher says LawRight is excited to offer the new service and help people affected by violence to get their lives back on track.
"We particularly help vulnerable people who have experienced trauma and do not have any understanding of the law or legal processes," Ms Gallagher said.
"While QCAT is known as a forum where you usually represent yourself, the outcome of QCAT proceedings will often have serious consequence on the welfare, dignity and daily living of the people involved — affecting matters such as living arrangements, employment opportunities and connections with children," she said.
Ms Gallagher says her clients are very grateful to get extra help and representation.
"Hearings can be the most stressful part of the process for people involved with domestic and family violence; we're present at hearings three days a week at QCAT and our pro bono barristers attend compulsory conferences," she said.
LawRight is supported by volunteer solicitors and barristers throughout Brisbane.
Drop-in duty lawyer services are available for domestic violence-related tenancy and debt hearings, and child protection and Blue Card direction hearings on Monday, Wednesday and Thursday mornings at QCAT (level 10, 259 Queen Street Brisbane).
LawRight also offers appointments by arrangement for other matters. More information is available at www.qcat.qld.gov.au/resources/legal-advice-and-representation and www.lawright.org.au.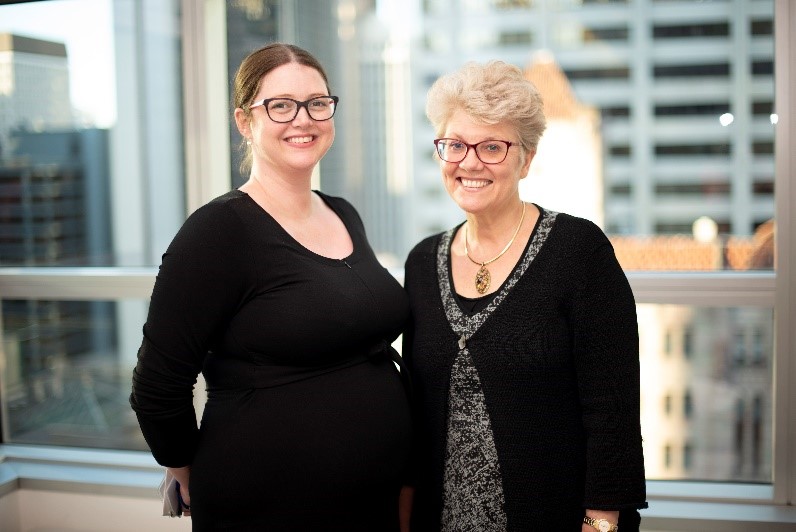 LawRight Duty Lawyer Elizabeth Gallagher and QCAT acting Executive Director Natalie Parker.