Our Public Advocate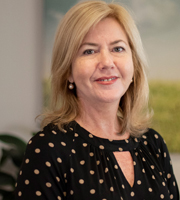 Mary Burgess is the Public Advocate for Queensland. She was appointed for four years by the Governor of Queensland in November 2016.
Mary is a former lawyer with a career in government and public policy. She was admitted as a solicitor in 1985 and in her early career, practised as a lawyer in generalist legal practices. She has worked for the Prisoners' Legal Service Inc., a community legal centre, providing legal support and advocacy for prisoners and their families about issues related to their incarceration. For eight years Mary also worked in the Research and Prevention Division of the Criminal Justice Commission (as it then was), undertaking legal and criminological research.
Mary has also been a part-time commissioner with the Queensland Corrective Services Commission, and spent six years in Law and Justice Policy in the Department of the Premier and Cabinet, first as a policy officer and later as a director. Immediately prior to her role as Public Advocate, Mary worked with Legal Aid Queensland. She was the Executive Services Director, part of the executive management team and was responsible for leading the agency's strategic policy, communication and community legal education activities.
As Public Advocate Mary has championed various systemic issues in the disability, ageing, health, guardianship and mental health sectors. These issues include:
improving the responsiveness of health services to people with disability
the unlawful use of restrictive practices in residential aged care
the recording of Mental Health Review Tribunal hearings
appropriate monitoring of the quality of services and care provided to people with disability during the roll-out of the National Disability Insurance Scheme
upholding the rights of people within the guardianship and administration system
the operation of the Forensic Disability Service
operation of the Mental Health Act.