Real-life love stories playing out at Brisbane Registry this Valentine's Day
Reality television romance shows might get great ratings but real-life love stories will be playing out this Valentine's Day as couples take their vows at the Brisbane Registry.
Eleven ceremonies are scheduled to take place at the Registry on the most romantic day of the year.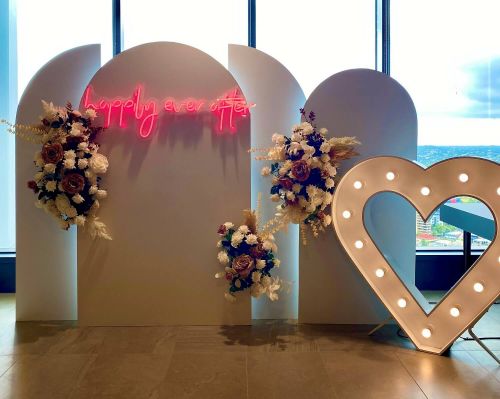 'Happily ever after' wedding backdrop at the Brisbane Registry of Births, Deaths and Marriages ceremony room for Valentine's Day.
Last Valentine's Day, 43 couples married in Queensland, seven of which were conducted throughout Queensland by the Registry of Births, Deaths and Marriages (RBDM) and its agents, such as courthouse registries. Three were conducted at the Brisbane Registry.
RBDM data shows marriage in Queensland is on the increase post-pandemic, with 25,046 marriages registered last year. RBDM and its agents conducted 2028 of these ceremonies, with 1470 taking place at the Brisbane Registry.
Last year was the first time since 2014 that more than 25,000 marriages were registered, when 25,076 were registered. The highest number of marriages registered was in 26,277 in 2012.
Celebrants remain the most popular choice to wed couples, conducting more than 80 per cent of ceremonies since 2018 according to latest Australian Bureau of Statistics figures.
While Valentine's Day is always a favourite date to tie the knot, memorable dates with repeat digits or lucky numbers are also proving popular.
This year, many couples wanting a day to remember are booking dates featuring the 23rd day of any month so their anniversary date reads 23.x.23.
To book a memorable registry wedding date visit www.qld.gov.au/seasonalweddings.
Quotes attributable to Renae Webb, Executive Manager Operations, Registry of Births, Deaths and Marriages:
The popular obsession for reality TV dating programs shows everybody loves a great romance and a wedding.
Valentine's Day always proves a popular date choice for couples to tie the knot.
On days like this, you can really sense the love in the air at the Brisbane Registry and see the joy on the faces of the couples, their family and friends, as well as the celebrants who conduct the ceremonies.
With costs of living increasing, the Brisbane Registry provides a stylish, yet really affordable venue for couples to say 'I do', with the cost of a wedding starting from less than $400 which includes the ceremony, marriage celebrant and the ceremony room.

ENDS