Ms Kay McGrath OAM (Chair)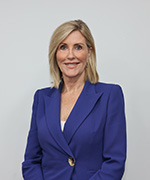 Kay is an award-winning journalist and presenter with 44 years' experience in the media. In January 2020, Kay retired from reading prime time news bulletins to focus on her community work and other media projects. In addition to her journalism, Kay has worked as a facilitator, speaker and Master of Ceremonies and supports a variety of community causes.
Kay is Patron of the Daniel Morcombe Foundation, Patron and Co-Founder of Protect All Children Today, Lifetime Ambassador for Act for Kids and Vice Patron of the Queensland Breast and Prostate Cancer Association.
She is also the face of Women in Media Queensland. In 2019, Kay was honoured as a Queensland Great in recognition of her tireless work in the community.